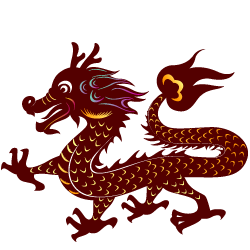 Legend has it
The dragon is the 5th animal within the Vietnamese Zodiac falling right behind the cat.
Here is an interesting question:
Why would a mythical dragon with the ability to fly not be in first place?
He was being a good samaritan and busy helping a village of farmers. While the Great Race was occurring the dragon was busy creating heavy rains to irrigate a local village suffering from severe drought. When he finally made it to the finish line the dragon made it in 5th place.
Personality Traits
Positive:
Confident
Brave
Ambitious
Strong
Direct
Passionate
Negative:
Tactless
Arrogant
Demanding
Tyrannical
Violent
You Know You're a dragon sign if:
Love the outdoors
Have good intuition for life and see all it has to offer.
Work from night to morning to get work done
Leap over any wall that is stopping you from getting to your goal.
Aggressive when it is necessary.
You love to be busy and never like to be idle.
Compatibility with other signs
Most compatible:
Compatible:
Snake
Dragon
Goat
Horse
Rat
Pig
Ox
Cat
Least Compatible:
Here are some famous people born into the year of the dragon:
Robin Williams, Deng Xiaoping, Keanu Reeves, Sigmund Freud, Joan of Arc, Neil Diamond, John Lennon, Lewis Carrol, Jack Dorsey